HEALTH & SAFETY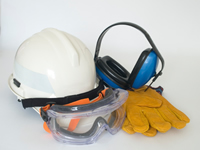 We have a moral and legal obligation towards our operatives with regard to Health and Safety. We have a great work force and we want to look after them. As a company we aim to:
Provide our operatives with adequate health and safety training




Provide and maintain safe working environment

Provide our operatives with all necessary health and safety equipment



To maintain our Health and Safety trained workforce, we use a hierarchy system giving priority to training in the areas that have the highest risk of accident rate in the construction industry.
Contracts Managers attend on a 5 days Site Managers Safety Training Scheme STSMS.

Foremen attend a 4 days Site Supervisors Safety Training Course, SSSTS.

Plant Operators attend various Construction Plant Competence Scheme courses including excavators, rollers, dump trucks and all terrain forklifts.

Bricklayers attend an Abrasive Wheels course.

All operatives attend an Emergency First Aid Training Course.

We hold periodic in-house training more commonly known as 'tool box talks' to illustrate some of the important points of Health and Safety legislation.
TRAINING AND QUALIFICATIONS
"Knowledge is one of the keys to success. Training gives you knowledge."
We work in conjunction with the Governments Skills Training Board, previously the Construction Industry Training Board, CITB to carry out and promote training within the Construction Industry.
We have put over 100 apprentices through bricklaying and Carpentry College training scheme helping them achieve their Professional Trade Qualifications.
All our directly employed skilled operatives have all gained professional qualifications in their relevant field at college.
All our sub-contractors are fully qualified in their relevant field and are members of their associated trade body.
Construction Skills Certification Scheme – most of our operatives have obtained CSCS qualifications through their professional trade qualification at college or have taken appropriate tests.
"I have worked with Padwick Builders on a number of projects including a replacement dwelling and a large residential refurbishment. They are very professional, producing a consistently high standard of work both in construction and finish. They are also very good to work with, being proactive in identifying potential issues and proposing solutions. Their approach is positive, helpful and contributes to good teamwork, which is essential for a good project outcome".
Helen Gaffney RIBA